Active Use of the Library
Interdepartmental common course: It is offered at Surugadai in the first semester, at Izumi in the first and second semesters, and at Ikuta in the second semester.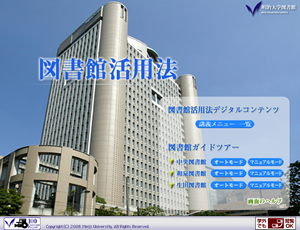 About Class
Purpose of the Class
The Meiji University Library houses more than 2 million books and 20,000 types of periodicals. In addition, we live in an age where we can access databases around the world anytime, anywhere. In the midst of a flood of books and information, how can we find literature or information that we need in an accurate and prompt manner? Completing a certain task by leveraging books, periodicals, databases, networks, and the Internet and writing a report on it...Through the process of learning how to do it, we hope that students will discover the joy and depth in using libraries and reading books and acquire the skills to fully use information media.
Class Form
A faculty member and a professional library staff member take turns teaching different themes. Classroom lectures (introduction) and practical training are organically combined. In the practical training, students perform database searches using OPAC terminals. Please note that participation in the MIND Orientation Sessions(Japanese language only) is a prerequisite for taking the practical training.
Grades
Students are evaluated on the results of examinations or reports and attendance.