PCs for information search
How to use a PC dedicated to information searches
Insert your card into the card reader. The card types vary with user status.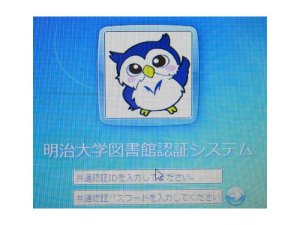 Those with a'Kyotsu-Ninsho'
Those without a'Kyotsu-Ninsho'
"Kyotsu-Ninsho" ID : Student Number or Faculty/Stuff Number
"Kyotsu-Ninsho" Password : Oh! Meiji system ,etc.
ID : Library Card Number (11digits not including L)
Password : the Password of the Portal Service

How to end the use of a PC for information searches
Please be sure to log off when you finish using the PC for information searches. You can log off by clicking the Start button and then selecting Log off in the Start Menu. As a rule, please do not leave the desk while logging in to the portal. If you leave the computer unattended for more than 30 minutes, it will log off automatically.
How to print
You can make copies (charged). For details, please refer to Information on Meiji University Open Printers. Printing procedures are as follows:
Printing operations should be performed from the application (Word, Excel, etc.) while the computer is connected to the network (MIND). Select the name of the printer for this system as the destination printer.
The printer data will be sent via the network, not directly to the printer, but first to the system server where it is stored.
In order to send the printer data to the server, the computer must be connected to the MIND network. If you want to use the MIND network at home or off campus, you have to have a PPP-based VPN to connect to the MIND.
The printer data stored on the server is automatically deleted after 24 hours.
To actually print the stored data, you need to execute the output operations on the system printers installed on campus. The output operations will retrieve the stored data from the server and print them.
For printing, fees are charged in accordance with the number of copies. For payment, you can use a prepaid card for on-campus printers. The unit price of printing is the same as the printing price set for on-campus copiers.